Scholarships
There are many many scholarships for those interested in finding them.  Because this is a constantly changing subject, we have people who are able to help members find scholarships to meet their needs.  Scholarships are based on everybody's own experiences, and also tied to their future goals.
Before meeting with someone (or even doing your own searching online, do the following note taking:
1.) Write down all of the things you have done (similar to a resume, but focus also on extra-cirricular activities you think may not matter eg: delivering newspapers, if your parents are part of any clubs or organizations, …).
2.) Write down all of the things you might be interested in following in the future.  (Do you want to be a doctor, do you love history?, Art is your passion?  Do you find interest in religious things?
3.) Important relevant information like the city you reside in, schools you attended, classes you have taken, camps you attended, memberships you have been a part of, and any other relevant information, (conferences attended, cities visited, …. ).
Some Scholarships are based on your experiences, some are based on your parents' experiences or memberships, and some are based on Testing, Merit, future interests, or hobby's.
Before starting a "fresh search" you should look into previous renewed Scholarships.  Most scholarships renew Annually. 
VERIFIED CURRENT Scholarships:
Below is a link to old Scholarships that may give you some pushes in the right direction.
Here is a photograph of some old Scholarships from the Holy Trinity Hellenic Orthodox Church of Lowell Massachusetts.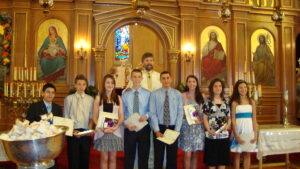 Old Scholarships