Greek Orthodox Archdiocese News
Stavros Papagermanos – pressoffice@goarch.org
NEW YORK – His Eminence Archbishop Demetrios of America appointed His Grace Bishop Apostolos of Medeia as spiritual advisor of the National Greek Orthodox Ladies Philoptochos Society.
Bishop Apostolos, who is the chief secretary of the Holy Eparchial Synod assumes the responsibility of spiritual advisor to the National Philoptochos following in the steps of His Grace Bishop Sevastianos of Zela and His Grace Bishop Andonios of Phasiane, who both served the post faithfully in the past.
Archbishop Demetrios in a letter to Mrs. Maria Logus, president of the National Philoptochos states: "In his new capacity, His Grace will represent the Archbishop in the meetings of the Society and will advise, support and promote the mission of the philanthropic arm of the Greek Orthodox Archdiocese of America always mindful of the words of Matthew (25:40) in the narrative about the last Judgement, Inasmuch as you did to one of the least of my brethren, you did it to me."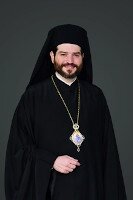 Bishop Apostolos
Greek Orthodox Archdiocese of America.
Photograph by Greek Orthodox Archdiocese of America